So, you've heard about Linux and/or Ubuntu from the geek in your life and you're wondering what the fuss is all about. Or not. Either way, I'm here to walk you through a basic installation. An excellent way to try out Ubuntu is just by using the live CD. A live CD basically allows you to pop the CD into your computer, restart and try it out without installing anything. This is a great way to 'get your feet wet,' so to speak. The only problem is that you don't really get the experience of installing new software and customizing it to your liking. Which is a big part of living in that world. Ubuntu is one of the easiest to use and install Linux Distributions I've ever used.
For today we're just going to step through a simple install. Here's what you'll need.
An Ubuntu Installation ISO (Download it here)
A blank CD
A CD Writer
CD writing software (I use this)
A computer to install Ubuntu on (I recommend using a machine that's not your main one for homework/work, and doesn't have a bunch of stuff that you would miss if you lost on the hard drive, like pictures of your child, or the only copy of the novel you've been writing for 6 years.) Just in case things go awry.)
1. Preparation
First things first, get your download done, get your machine all ready to go, get your disc burned. (It's also not a bad idea to have a nice cold drink on hand.)
2. Restart Your Machine with the Disc Inside
Pretty self explanatory. Stick the disc in and restart. Most machines will automatically boot the disc, sometimes though you'll have to tell the machine to boot from cd. It usually involves pressing an f-key like f1 or f2 to get the boot menu.
Once it boots up, you'll be shown this screen. Here's where you can make the decision to install or just try it out. For our purposes we're going to click the 'Install Ubuntu' button.
3. Begin the Installation
So now we've committed to installing Ubuntu on our machine. The next screen you're shown is one verifying a few installation requirements.
We'll tick the boxes for 'Download updates while installing' and 'Install this third-party software' to save a little time after installation. There's lengthy explanations online as to why DVD and mp3 support isn't just baked in. It has a lot to do with the associated industries and their panties being bunched up.
Next we specify our installations. I'm installing on a clean disk, so I'm going to use the whole thing. If you're installing on an old machine or something you can o the same thing, or you can install it side-by-side with windows or whatever.
Then we click 'Forward'
So we click 'Install Now' after verifying our info. It starts installing. This is a difference between this version and the last version. It allows you to fill out information after it begins installing. So you don't lose as much time while it's installing.
First the time zone, it's usually pretty good about finding you.
Then the keyboard info.
Then your computer name and account info.
After that, we get a lovely little slideshow talking about some nice new features, et cetera.
After all the file copying and installation is done, you'll get a dialog asking you to restart your computer.
Just click that little button and we can move on.
4. Post-Installation
We've got some more stuff to cover as far as post installation goes. We might want to install some restricted drivers and of course I've got my favorite software picks and settings to change. For right now, we'll just go over setting up your chat. In my opinion it's one of the best features of the latest versions of Ubuntu. The 'Me Menu is a built-in chat client, integrated right into your operating system. The notifications are pretty classy too.
So clicking on the little envelope on the upper right will give you the social drop down menu. We're going to click 'Set Up Chat.'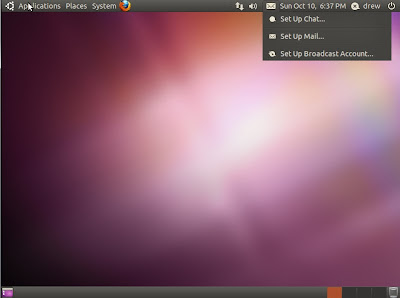 Clicking it brings up the Empathy Set Up Menu.
Click 'Forward'
We'll go on ahead and enter our facebook information. There's many different protocols that are supported by Empathy, if you'd like to add more accounts just tick the little radio button that says 'Yes.'
Empathy has a feature for chatting in your network as well. You can disable it, but that's not any fun.
After you click 'Apply' it will show you the contacts menu. Now you can change your status from the 'Me Menu', that's also where you will add accounts in the future.
This is where I'm going to stop for now. We can get into a little tour in another post. I've got a few things that I like to do with any new Ubuntu installation. Until then, poke around, use the applications. Try it out. It's easy to use and way less intimidating than it seems.